Micro Wedding Magic: Planning the Perfect Fall Celebration
higrdt
May 12, 2023 9:53:17 AM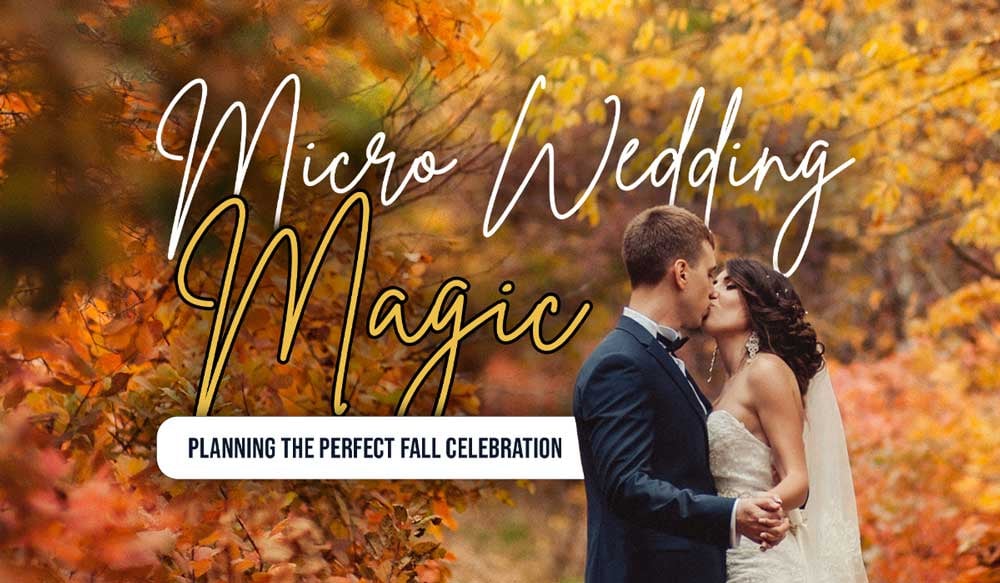 Summer is just around the corner, but before you know it, fall will be here. If you're thinking about having a micro wedding, now is the time to start planning! Whether you envision exchanging vows surrounded by beautiful autumn foliage or having a cozy indoor ceremony, there are many ways to make your small wedding special. The Holiday Inn Grand Rapids Downtown could be the perfect venue for your intimate celebration that you and your guests will cherish forever.
A micro wedding typically includes a smaller number of guests, normally consisting of 20-80, and allows couples to focus on personalization and meaningful interactions. HIGRDT can offer you and your guests a memorable experience with its cozy and intimate ambiance. Here are some tips to help you plan a dreamy micro wedding right in time for fall.
1. Choosing the Perfect Hotel:
Look no further. Holiday Inn in Grand Rapids Downtown offers a beautiful backdrop for your Fall Micro Wedding. Providing an intimate and warm setting for your special day, HIGRDT has your micro wedding venue complete in their conference room, with customizable packages available to fit your needs.
Some of the options include an hors d'oeuvre display, champagne toast, plated entrees, beverages, and a wedding cake service. Other ideas that might pique your micro wedding interest are the bridal shower package or designated room block for guests.
2. Embrace the Fall Theme:
Start by defining your vision for your small fall wedding. What kind of atmosphere do you want to create? Embrace the autumn theme into your wedding decor by incorporating warm tones and neutral colors, bold velvets, and cozy textures. What are your priorities and must-haves?
Clarifying your vision will help guide your decision-making throughout the planning process. Include fun decorative elements to match the season, like pumpkins, apples, leaves, twigs, and beautiful floral arrangements. Consider your personal style, interests, and values as a couple, and use them as a starting point for your wedding theme, color palette, and overall vibe.
3. Create a Guest List:
One of the biggest advantages of a micro wedding is the intimacy it offers. Be intentional and selective when creating your guest list, including only your closest family and friends. Remember, the goal is to create an intimate experience where you can truly connect with your guests on the big day.
Embrace the opportunity to spend quality time with your partner and your closest loved ones. Share memorable moments, express your gratitude, and create cherished memories. With fewer guests, you'll have more time to focus on what truly matters - your love and commitment to each other.
4. Personalize Your Details:
One of the advantages of planning an intimate wedding is the ability to add personal touches and details that may not be feasible with a larger wedding.
Take advantage of this opportunity to infuse your personalities and love story into every aspect of your wedding. From personalized vows to unique decorations, interactive elements like a DIY cocktail bar, a s'mores station, and meaningful favors, let your creativity shine and create a day that truly reflects your love story.
5. Plan for a Seasonal Dining Experience:
Fall is known for its delicious harvest flavors, and incorporating them into your wedding menu can add a special touch to your celebration. Work with the hotel's catering team to create a seasonal menu featuring fall-inspired dishes, roasted vegetables, butternut squash soup, apple cider cocktails, and pumpkin desserts. Consider offering a signature cocktail that reflects the flavors of the season, such as a spiced apple cider or a mulled wine.
6. Focus on Meaningful Interactions:
One of the biggest advantages of a micro wedding is the ability to spend quality time with your guests. Take advantage of this opportunity to truly connect with your loved ones.
Plan activities that foster interaction and intimacy, such as games, speeches, or storytelling sessions. Set up lounge areas or seating arrangements that encourage conversation and connection. This will create lasting memories for both you and your guests.
7. Capture the Moments:
Just because your wedding is smaller doesn't mean it's any less important. Hire a professional photographer and/or videographer to capture the special moments of your micro wedding.
A smaller wedding allows for more opportunities to document the special moments and emotions of the day. These precious memories will become cherished keepsakes that you can revisit and share with your loved ones for a lifetime. You can also consider setting up a photo booth or a Polaroid station for some fun and candid shots of your guests.
8. Be Mindful of Budget:
Although a fall micro wedding could be more budget-friendly than a larger one, it's still important to create a budget and stick to it. Be mindful of your spending and prioritize what matters most to you as a couple.
Allocate your budget towards the elements that are most meaningful to you, such as personalized details, photography, and gourmet desserts. Remember that a smaller guest list allows you to allocate more resources per guest, creating a truly memorable experience for everyone involved.
Planning a fall micro wedding at Holiday Inn Grand Rapids Downtown can be a magical and intimate affair. Embrace the warmth and charm of the season by selecting an intimate guest list, incorporating fall-themed decor and menu options, and creating personalized experiences for your guests.
With careful planning and attention to detail, your fall micro wedding can be a memorable celebration that captures the beauty of the season and creates cherished memories for you and your loved ones. So, get ready to say "I do" surrounded by the breathtaking colors of autumn and embark on a journey to plan your dreamy fall micro wedding at HIGRDT. Happy planning!