What's Happening in Grand Rapids: September 23'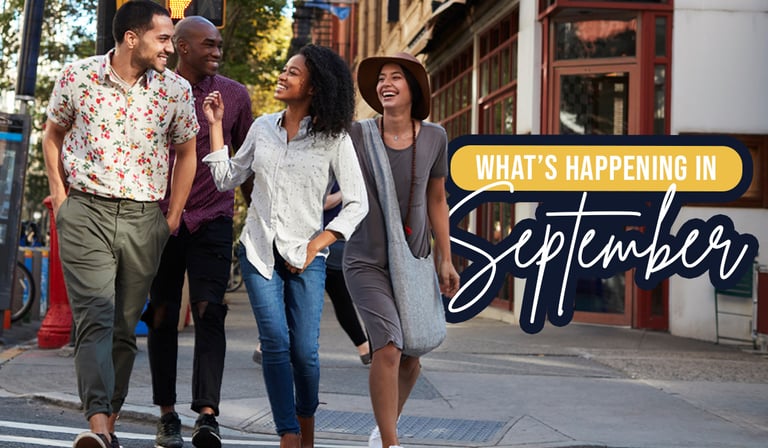 2023 just keeps on moving, and September is here. Can you believe it? The good news is that we have all you need to know (and a place to stay) for your late Summer or early Fall visit. There's always something fun going on here, especially in the downtown area. Here's your guide to what's happening this coming September.
GrandCon Gaming Convention – Sept 1st-3rd
The DeVos Place Convention Center is once again home to Michigan's greatest tabletop game convention with GrandCon! This 3-day event is a must for any hobby game enthusiast or game lover looking to expand their collection and knowledge. It's a fun event for all ages with board games, card games, and role-playing games, amongst many others, under one roof!
Check out GrandCon's website for further details.
Old Dominion – Sept 7th
Van Andel Arena hosts multi–CMA Award winners Old Dominion on September 7th from 7 pm. The Nashville natives bring their witty country lyricism and traditional style to Grand Rapids for one night only. Support acts include Priscilla Block, Adam Doleac, and Kylie Morgan, with doors opening at 7 pm.
For further information and tickets
See Comedian Shane Gillis live – Sept 8th
Shane Gillis brings his stand-up act to downtown Grand Rapids at the DeVos Performance Hall for one night only. There will be two shows (7 pm and 9:30 pm), and you can expect plenty of belly laughs with Gillis' absurdly honest stories and hilarious delivery. Gillis has appeared on many online outlets, including Barstool Sports and the Joe Rogan Experience, and currently stars in the hit Peacock show Bupkis.
Visit the DeVos Performance Hall site for tickets and further information.
Barre on The Farm with The Barre Code + Kids' Food Basket – Sept 13th
The Kids' Food Basket (located at 1300 NE Plymouth Ave) is hosting its 2nd annual event, which is a combination of fitness, community involvement, and giving back all rolled into one! Donations go to the Kids' Food Basket Wishlist and guests are treated to a 50-minute barre class amongst the lush environs of the farm. Bring a yoga mat and some water and get ready to limber up!
ArtPrize 2023 – Sept 14th-Oct 1st
This independent and internationally celebrated art competition is a highlight on the calendar every year in Grand Rapids. Celebrate over 650 pieces of art by artists from the local area and all over the world. Plus, you get to decide who should win the awards. ArtPrize is the world's most attended public art festival – so don't miss out and be a part of history!
Visit the ArtPrize website for more details on this amazing event.
The Mars Volta live – Sept 15th
It's a busy month at GLC Live at 20 Monroe, with rockers The Mars Volta also coming to town. The Mars Volta are an energetic prog rock group who are known for their schizophrenic jazz-infused solos and a stage presence you just must see to believe. Fans of At The Drive-In are also in luck with original members Omar Rodriguez-Lopez and Cedric Bixler-Zavala taking the stage.
This is an all-ages show with doors at 7 pm
Get your tickets at LiveNation.com
Grand Rapids African American Art & Music Festival – Sept 15th & 16th
Over two days at Studio Park, see this annual event that celebrates the immense artistic contributions of Grand Rapids' local Black community. Festival goers can expect lots of eye-opening art, music, dance, and food in celebration of a unique heritage. It's a fun, free event for all ages and all folks!

Visit the festival's Facebook page for more information about events and vendors.
Art of Food Festival – Sept 15-17th
Calder Plaza is the place to be for the Art of Food Festival from 11 am – 8 pm over three days in mid-September. More than 30 food trucks and stalls will be present for foodies to explore, plus there are art activities for the kids, an artist village to explore, and a beer tent for the adults!
Visit Crepes by the Lakes for more festival info.

Japanese Tea Ceremony in the Teahouse – Sept 16th
Join Japanese tea masters at the Frederik Meijer Gardens & Sculpture Park (located at 1000 East Beltline Avenue NE) for an authentic and traditional tea ceremony. Members of the Japanese consulate are present to greet guests and guide them through the ceremony. Entry is from $70, and bookings are essential.
Visit the garden's website for further information.

Hot Wheels Monster Trucks Live Glow Party - Sept 16th & 17th
Van Andel Arena will be home for two nights of crazy monster truck action this September. This is the first time Grand Rapids has hosted the Hot Wheels team, and fans will love seeing their favorite trucks, including Tiger Shark, Mega Wrex, Boneshaker, and Big Foot. Plus, there's a dance party, laser show, a fire-breathing robot, freestyle motocross, and plenty of awesome giveaways.
Visit the Van Andel Arena site for further details and for ticket purchases.
Bastille comes to town – Sept 17th
GLC Live at 20 Monroe hosts international sensation Bastille on September 17th, with doors at 7 pm. Hailing from London, UK, the band will be playing many of their hits and new songs from their latest album, Give Me the Future. The indie pop darlings have won loads of awards and have sold over 11 million records worldwide. This will truly be a concert you won't want to miss.
This is an all-ages show with support from the local group Cal in Red.
Get Your Tickets at LiveNation.com
Broadway GR Presents Funny Girl – Sept 19th – 24th
One of Broadway's most beloved musicals, Funny Girl, comes to town this September at the DeVos Performance Hall. Theatergoers will revel in seeing this timeless comedy about the lovable Lower East Side girl Fanny Brice with classic musical numbers "Don't Rain On My Parade," "I'm the Greatest Star," and "People."
All Elite Wrestling: Collision - Sept 23rd
Van Andel Arena is your wrestling destination as Grand Rapids hosts AEW Collision for the first time live! See your favorite stars in the ring for this major TNT TV event on September 23rd from 6 pm. Tickets start at $48.
Disney's Encanto: The Sing-Along Film Concert – Sept 25th
Disney Concerts presents Encanto: The Sing-Along Film Concert arrives at the DeVos Performance Hall on Monday, September 25th at 6 pm. Sing along to your favorite songs and enjoy the amazing visuals on stage for one night only. Dress up as your favorite character from the movie, too, for a fun celebration of all things Familia Madrigal!
Visit the venue website for more information.
Oktoberfest GR – Sept 29th & 30th
The Edelweiss Club of Grand Rapids brings you all things German and beer related for Oktoberfest 2023! Come on down to Riverside Park and dig out your lederhosen for a family-friendly day of fun German music and dance, tasty food, and, of course, plenty of great beer! Entry is free, but drink tickets are required to purchase alcohol on the day.
Visit the fest's website for more information.
"Brews at the Calder" Beer Festival – Sept 30th
Beer lovers will come together at Calder Plaza for Brews at the Calder for this event from 4-8 pm. Hosted by the Beer City Brewers Guild, this is an ideal opportunity to taste all the amazing local brewers have to offer. 30 + brewers will be in attendance, with their award-winning brews available for drinkers to enjoy. Come taste the Beer City!
Entrance is free, with tasting ticket purchases available on-site for purchase. For further information, visit.
What event are you looking forward to the most? Let us know in the comments!