Festivals and Events: Celebrating Summer in Grand Rapids with the Holiday Inn
higrdt
Jun 28, 2023 11:48:06 AM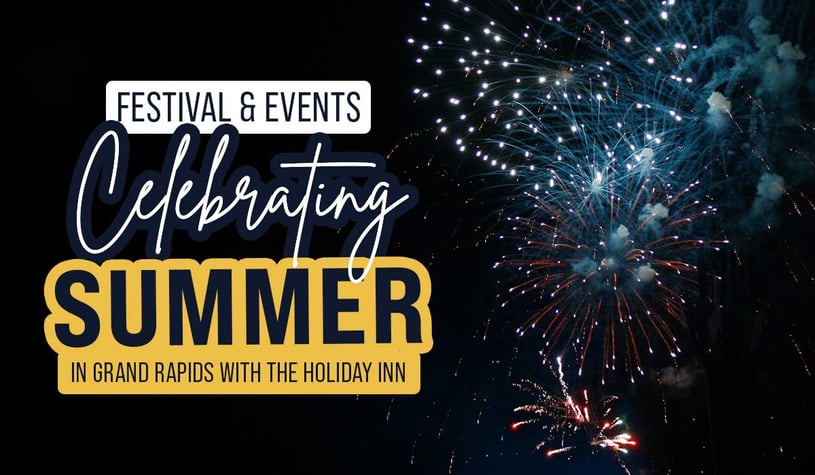 Summer in Grand Rapids is a special time, with so many events and happenings around the city. From music festivals to celebrations and parades, Grand Rapids has it all.
If you don't know much about our lively city, it's one of the top food and craft beverage locales around the country, as well as a great place for outdoor enthusiasts, art lovers, and music fans. Summer is a time when all of the city's highlights rise to the surface with scheduled events and festivals that showcase the heart and soul of our community.
At the Grand Rapids Downtown Holiday Inn, we like to keep track of the city's happenings so we can help our guests make the most of their time here. If you're going to be heading to Grand Rapids this summer, take a look at some of the upcoming festivals and events you may want to attend:
53rd Summer Concerts at Meijer Garden( June- September)
The Summer Concert series takes place at the Meijer Gardens and features a host of well-loved musicians throughout the course of the summer. The event runs from June through September and will include musicians such as Peter Frampton (June 19), Greensky Bluegrass (June 28), Ben Folds with Grand Rapids Symphony (July 20), First Aid Kit (July 21), Glen Hansard and Marketa Irglova (August 17), and The Beach Boys (August 21), among many others.
Art in the Park (June 19-August 14)
Art in the Park takes place on Mondays for 10 weeks during the summer. Hosted in the Rosa Parks Circle, it offers a variety of hands-on activities that the whole family will enjoy. The Art in the Park event is a great way to explore something creative and new this summer while spending time among the Grand Rapids community.
Grand Rapids Foodie Fest 2023 (June 30-July 2)
The Grand Rapids Foodie Fest is a three-day event held at the Calhoun Fairgrounds. The event hosts over 50 food trucks and booths and includes entertainment through live music, performances, and more. Admission is free, and the food is delicious.
Grand Rapids Annual 4th of July Parade (July 4)
Every Independence Day should begin with a patriotic parade! Grand Rapids' Annual 4th of July Parade will begin at 9:30 am at the intersection of Northville and Plainfield. The parade route continues to Leelanau and ends at Northville Park with a raising of the flag. Enjoy floats and performances from organizations around Grand Rapids. Kids can join in on decorated bikes with parental supervision.
July 4th in Grand Rapids (July 4)
Experience one of the most incredible fireworks shows on Saturday, July 1st. The 4th of July festivities continue in downtown Grand Rapids. Explore the town, eat great food, and see the sights.
Here's one for the kids! Take your children to see the touring performance of Disney's popular Frozen. It will be at the DeVos Performance Hall in Grand Rapids July 11-23. It's time for Frozen Live. Your children will not want to miss this event. Get your tickets
Upheaval Festival 2023 (July 14-15)
Grand Rapids' largest rock festival, the Upheaval Festival, returns to Grand Rapids in the heat of the summer. Join Lamb of God, Bring Me the Horizon, The Ghost Inside, and many other bands for a weekend of rock at Belknap Park.
2023 Ottawa Count Fair (July 25-29)
The Ottawa County Fair is one of Grand Rapids' most anticipated summer events. It includes carnival rides, great food and beverages, as well as incredible entertainment. This summer you can look forward to seeing a Monster Truck Throwdown, Motorsports Night of Destruction, and a rodeo. Fair doors open at 11 and carnival rides start at 2 on Tuesday-Friday, 1 on Saturday. Admission is free for children 12 and under.
Day of Play Celebration (July 30)
The Grand Rapids, Children's Museum, hosts the 6th annual Day of Play Celebration, encouraging children and families to play! The event takes place from noon-4 pm and includes crafts, animals, yard games, bubbles, and other interactive experiences, as well as free admission to the Children's Museum!

Whitecaps Baseball Games
Take me out to the ball game! What's summer without baseball and all of the nostalgia that it brings? Food in the stands, breaking into song with the crowd, and cheering for Grand Rapids' own Whitecaps! Games are happening all summer long, so check the schedule for home games.

Grand Rapids Hispanic Festival 2023 (August 4-6)

Celebrate Hispanic heritage with a cultural festival at Grand Rapids' Calder Plaza. A variety of Hispanic food and merchant vendors will be showcasing their goods, along with cultural entertainment and fun. This all-ages event is open to the public with free entry.

Polish Festival 2023 (August 25-27)
Join the Polish Heritage Society for three days of Polish culture immersion. There will be traditional Polish food, beer, music, cultural tents, Polish vendors, food demos, children's activities, and more. The festival takes place at Rosa Parks Circle and is free for all.
Before you visit Grand Rapids this summer, check the schedule and find an event or two to enjoy. We can't wait to spend our summer with you at Grand Rapids Downtown Holiday Inn!